CLINTON AVENUE
This is a Union switch and Signal style B60 control cabinet. It was built in 1953 for the Central Railroad of New Jersey to control swtiches and signals at Clinton Avenue interlocking in South Plainfield,New Jersey. This was a temporary installation and was used to re-route traffic while railroad elevation construction was underway through South Plainfield. It was direct wire control and was located in a place called "MACK" tower which was an old railroad coach. The other end of the elevation project was at Middlesex, located in "LINCOLN" tower. This control cabinet was also salvaged and resides here.
Clinton Avenue is now operated by a Micro-Trax programmable controller which was installed to simulate all controls and indications and simulates actual train movements. The program which runs the controller was designed and written by my friend Rich White II who has written several interface programs and applied them to old CTC and local control systems.
---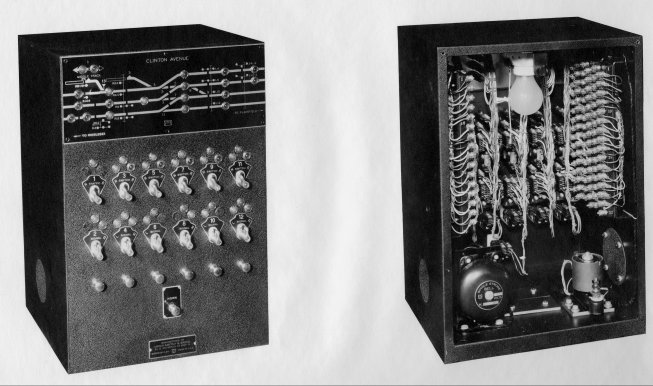 These pictures were taken at the factory when the unit was built in 1953. US&S Photo
---
Use your browser's BACK button to return to previous page.
---